Joined

Apr 15, 2022
Messages

9
Reaction score

12
Location
Hi! I finally got my first mopar v8 since I became obsessed with them. Wanted to buy a Duster or Dart Sport, but there was none around or in "decent" shape for a project or the import cost was too much for a rusty non driveable car. I got my hands on 77 Aspen SE 318 with landau top. The car was made for Sweden - It has a name tag of a guy who ordered it, the manual is in swedish, and it has main kmh speed unit. It is driveable and cost me less than non driveable duster from USA. I drove it home ~220miles without any problem. I was really amazed how a 45 year old car can drive so smoothly without any mechanical noises. It currently has additional turn signal lights to match with casual vechicle inspection laws, and a towing Hook along with mirrors.
The car has a hard start problem when its cold and it shoots fuel when revved hard. Other then that it starts nicely. I got it only couple of days so im going to diagnose if its a floater Bowl, lean burn or anything else. The car has also tendency to stall when i push the gas pedal too much at low rpm so I have to be very gentle when applying throttle.
Other than that, im missing a seatbelt loops on seats and it has some rust on lower front qt.
My idea is to remove all that funky side moldings, vinyl top and whitewall tires to make it look more sporty than fake luxury.
I like it and im going to post any progres here. We have plenty of jeep ZJ GCs here and I wonder are there any suspension/drive train parts compatible with other than magnum motor?
Once again, Hi!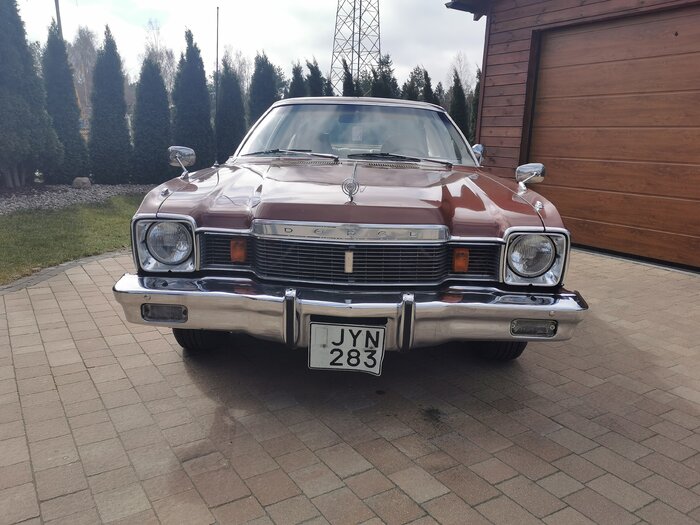 Last edited: