Joined

Aug 7, 2015
Messages

3,234
Reaction score

766
Location
Ahhh ..
Today was a rare day that I got to spend several hours on the 87 Fifth Avenue.
With 4 new Dorman plastic grommets, I began my quest.
Wear a long sleeve shirt to reduce the nicks and scraps you get from working blind in the cowling area.
I checked this forum and over at dippy.org and tried to follow the directions as best I could.
MISTAKE 1
I tried following the directions provided. I swear I thought I had to have 3 grommets facing the same direction and 1 grommet facing the opposite direction. Not for me.
My situation was 2 to the front and 2 towards the rear.
MISTAKE 2
Using my husbands air compressor to blow the dirt out of the cowling area. It seemed like it was nearly going to build pressure. But once it got to 20 pounds, it quit building pressure. It was just about worthless trying to blow the dirt out of the cowling. Note to self: Buy husband a new air compressor for Christmas.
MISTAKE 3
When I reversed the grommets, I reversed the wrong ones. Which means I installed and removed half the grommets-- two times. Yes, it is much harder to get them out than it was to put them in considering that I didn't want to butcher them and have to drive 50 miles round trip for 2 more.
MISTAKE 4
Forgot to label the wiper arms before I removed them. That means I had to walk from one side and to the other of the car futzing with the arms getting them to be generally parallel and not waller off the right side "A" pillar nor stop to high on the glass when 'resting'. Why, oh Why, didn't i whip out my green painters tape and mark things before I took them apart?
MISTAKE 5
I did remove the plate on the backside of the wiper motor. But somehow, i don't think I got it put back on correctly. When I auditioned the wipers, they worked about 4 times, then they wouldn't move, then they moved again, then stopped and wouldn't move at all. Bleh
I'll get my pictures resized and uploaded a bit later.
The end result, I do have new grommets installed and the wiper controls have been greased with lithium. I also used lithium grease on the grommets/posts so they would rotate easily and slide on/off easily.
I do know how to properly install the linkage. Although, I did it wrong the first time and had to take it all out to do it a second time. Part of the problem is when the grommets failed, everything was just rattling around and I didn't pay particular attention when I pulled things out.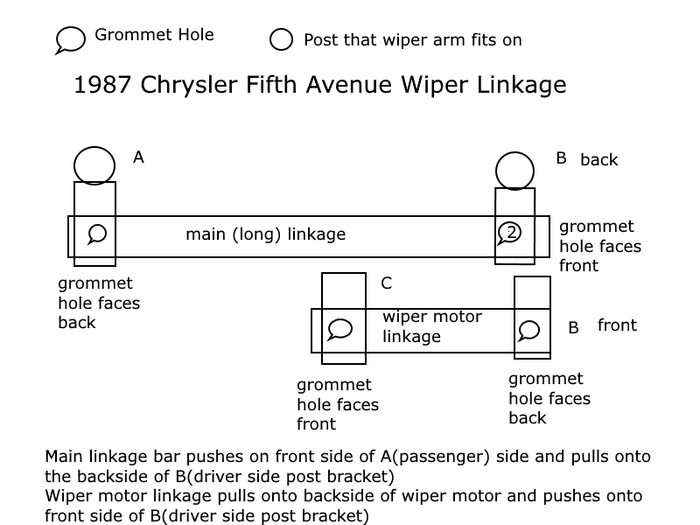 Last edited: